Spellman Child Development Center
A resource for mothers and children – and future educators, too
There are more than a few reasons we offer a leading-edge child development center right on our campus. It serves as a robust resource for our students with children, for families in the community and as an excellent training ground for our education majors.
Children ages six weeks to six years attend Spellman Child Development Center staffed by the experts from Child Saving Institute. The educational goals for the children who attend the Center include helping children:
Approach life as an invitation to learn.
Become confident and competent lifelong learners.
Develop emotional intelligence: personal power and social skills.
Develop the social and cognitive skills necessary for school success.
 
Open Monday through Friday from 6:30 a.m. - 6 p.m. (402-390-2028) children learn to count, read, tie and become friends here.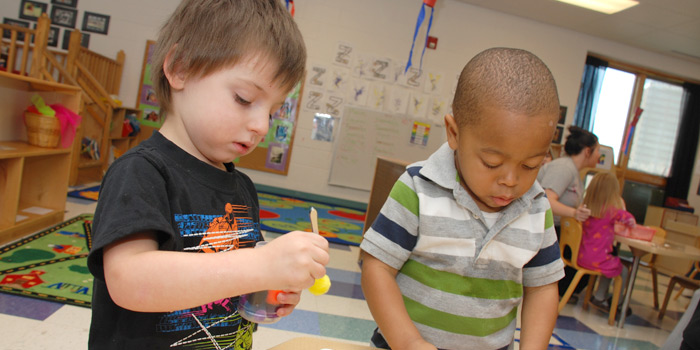 Spellman Child Development Center has 24 Title XX spots (state childcare subsidy) for CSM single student mothers. Students should check eligibility for Title XX with the State of Nebraska. Students must secure 30 hours of approved Title XX to use Spellman Child Development Center.  Applications for open spots at Spellman Child Development Center are available for current and incoming CSM single student mothers. While spots are not guaranteed upon submitting an application, we do our best to assist students with the process. For an application and more information, contact Barbara Treadway, Assistant Dean of Student Support Services/Student Parent Success at btreadway [at] csm.edu.